The Ronald McDonald House is much more than a room to stay in. When families are close to the hospital, this facilitates more time with their child and more frequent interaction with their clinical care team which helps them better participate in the care decisions. Additionally, families staying with us have free laundry facilities, shuttle rides to and from the hospital, frequent meals prepared by volunteers through our Make-A-Meal program and much more.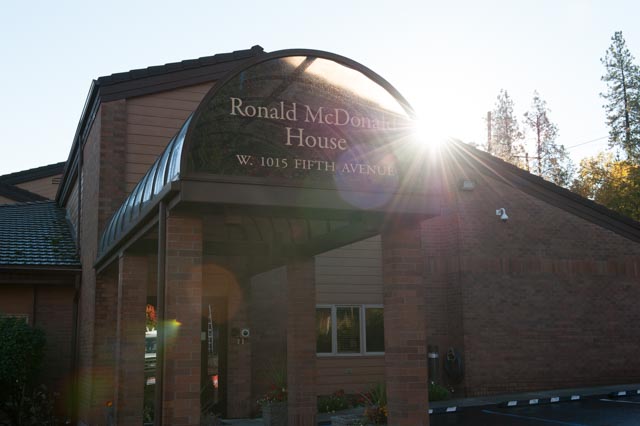 Over 60% of the families who stay with us had no idea that they would need our services just 24 hours prior to arriving. Many arriving via helicopter or ambulance. Approximately 57% of the families staying with us are here with a premature infant or newborn with complications, 13% to receive specialized oncology treatment for their children, and 30% due to trauma or another illness.
Families are able to stay at the Ronald McDonald House free of charge thanks to the generosity of our community. The average length of stay is 26 days.
The Ronald McDonald House is much more than just a roof over families' heads; it is a shelter in the storm. Our House was designed to have all of the comforts of a true home, and to encourage a community of empathy and support.
Ronald McDonald House Charities provides over 8,000 nights of lodging each year. In addition to a comfortable room, families have access to all the amenities of a home including laundry, high-speed wireless internet, a kitchen, and comfortable living spaces. Additionally, our volunteers provide transportation to and from the hospital.
Families are welcome to stay at the Ronald McDonald House at no charge, and regardless of their ability to pay.
Donors can help ensure that families continue to be able to stay at no cost by participating in our Share-A-Night program. We hope that you will consider becoming a sustaining donor, ensuring the continued support that our House depends on.
Families must be referred to Ronald McDonald House Charities of the Inland Northwest by a healthcare provider, social service agency, or clergy. In order to qualify for our services, families must have a permanent address, must have a travel time of at least forty minutes or forty miles, and must pass a background check. Families are admitted on a first-come, first-serve basis. If there are no rooms available at the Ronald McDonald House, we keep a wait list.