Purchase a heart of your choice by clicking 'Buy Now', each heart is a minimum $1,500 donation. Please indicate in the 'Additional Comments' section on the donation page which heart you are purchasing by assigned number or name of the heart. Ronald McDonald House Charities of the Inland Northwest will receive all the proceeds raised from heart purchases. If the 'Buy Now' button is missing, that means that heart has sold and is no longer available. 
Your purchase will help provide temporary lodging, social and emotional support, at no charge, for families of children accessing medical services.
Please note, these hearts are not 'brand new' and may show minor imperfections.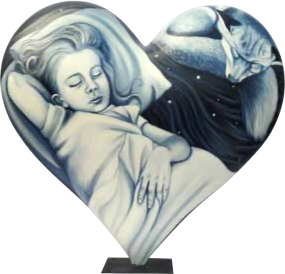 Dream Guardians keep the bad dreams and the bad things, like childhood sickness away." — Megan Martens-Haworth (Artist)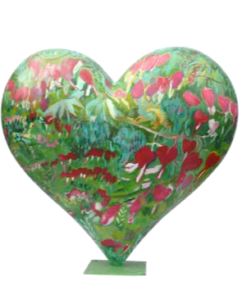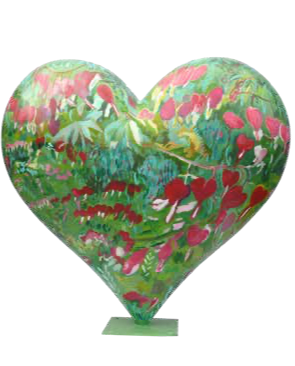 This heart represents the bleeding heart, the most lovely of spring flowers." — Karen Mobley (Artist)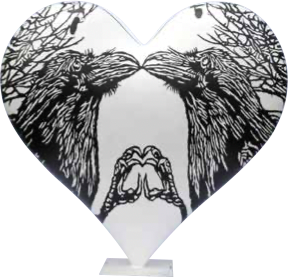 "Ravens can bring light to darkness; premonition of the future that hope and healing is coming." — Blaise Barshaw (Artist)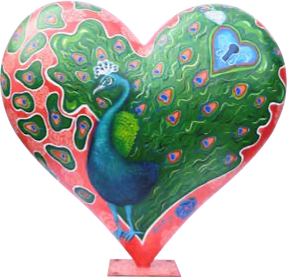 "You look like one of your paintings!" is a comment Debbie McCulley hears often. Her use of vibrant color and whimsical imagery is a reflection of McCulley and her outlook on life.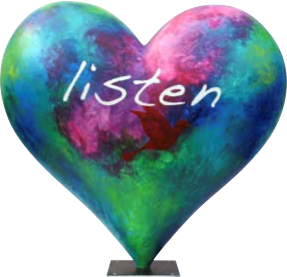 "Still the mind, open your heart, listen to the rhythm of the breath; the song of your life." — Lisa Waddle (Artist)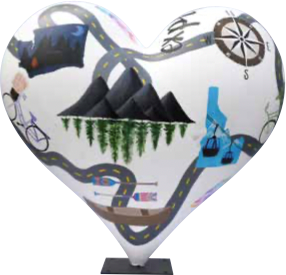 "The heart shows the connection between Idaho and Washington in the Inland Northwest, the beauty we have around us and my desire to see it all." — Stephanie Mills (Artist)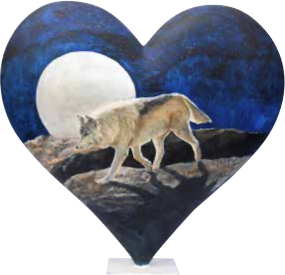 "The beautiful wolves I have met, and that continue to roam through my own heart, soul and imagination, became the inspiration for "Wild at Heart," and that is what they shall remain forever." — Debbie Hughbanks (Artist)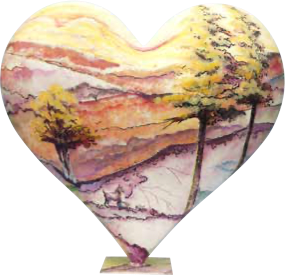 "A forested theme heart with animals; one side sunrise, the other sunset." — Vicki West (Artist)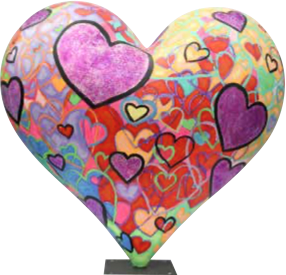 "This heart of hearts represents the unique diversity of humanity and the potential to heal and love without prejudice." — Melanie Lieb (Artist)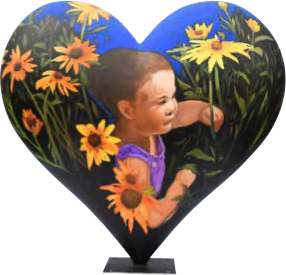 Child is Born with a Heart of Gold
Kathleen Cavender (artist) was born and raised in Spokane. She is a fourth generation professional artist who paints in oils, pastels, and water media. She is currently working on her first book, "Creativity for Mere Mortals " as well as launching a series of online painting classes, featuring her plein air paintings of the Palouse.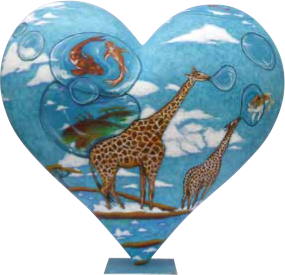 "Giraffes blowing bubbles represents fun and whimsy on planet Earth." — Pamela Van Kirk  (Artist)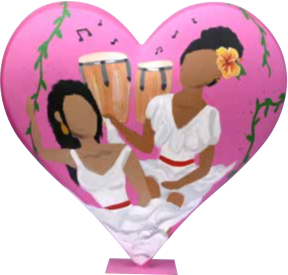 "This heart reflects the joy of celebrating diversity in our Spokane community; a place where people of different backgrounds and cultures can come together to make the city beautifully unique." — Jasmine Hernandez (Artist)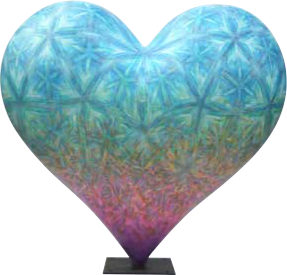 "A structural transformation remaining balanced even in asymmetry." — Jason Corcoran (Artist)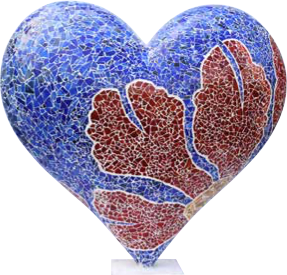 "I think about beauty and strength, which is what comes to mind, when I see and speak to children who are battling life threatening illnesses." — Lisa Soranaka (Artist)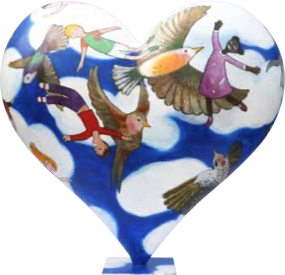 "The imagination of day dreaming we all experience as kids; even if you are a sick kid, you still want to be outside in the fresh air, still want to play and still use your imagination to take you somewhere exciting." — Mariah Boyle (Artist)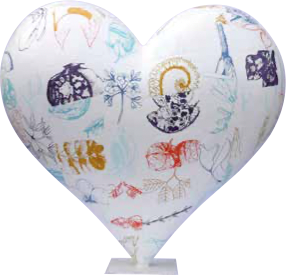 "Quilts are a wonderful comfort and interest to me. At the time of designing this heart sculpture, I decided to try my own hand at "quilting" the heart in plant imagery, of which I love plant's shapes and textures!" — Nicole Marie Wallace (Artist)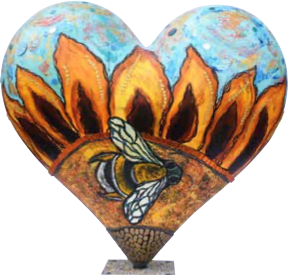 "This bright uplifting image prompts us to create the changes we would like to see in the world; just as pollinators need to be cared for, the Ronald McDonald House cares for kids in medical crisis." — Melissa Cole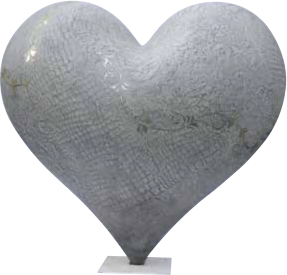 "I chose this because I knew no one else would use cement." — Carol Herman (Artist)
Please contact Bob McLean at bobm@RMHCINLANDNW.ORG or (509) 710-0096 if you have any questions.